We have a number of special events held throughout the year. These involve the wider community.
Funky Fishing Competition:  
A well established annual event (March/April) that is held locally at Taurikura. A fishing competition that attracts fishing and diving enthusiasts from all over with a load of prizes and entertainment to keep the children happy. It serves as a major fundraiser for both the school and community library and brings the community together. The auction is always well attended and plenty of food on offer to enjoy throughout the afternoon. GET YOUR TICKETS NOW!! http://funkyfishing.co.nz/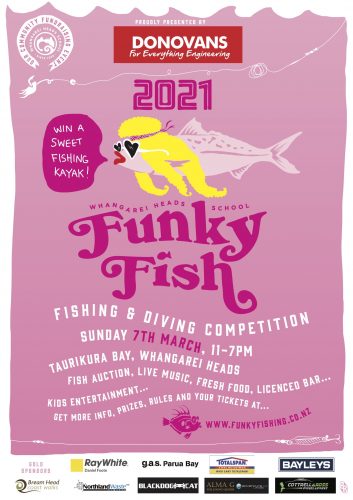 Art Exhibition / School Production:
A big part of our learning from throughout the year, with a particular focus on our value 'Creativity', is our art exhibition and school production, with each held biannually.
Art Exhibition – children research, gather inspiration, work alongside teachers and art specialists to create an art piece which is then exhibited in a real art house (Reyburn House, Town Basin) before being brought by parents and the wider community. A truly awesome experience to have alongside professional artists.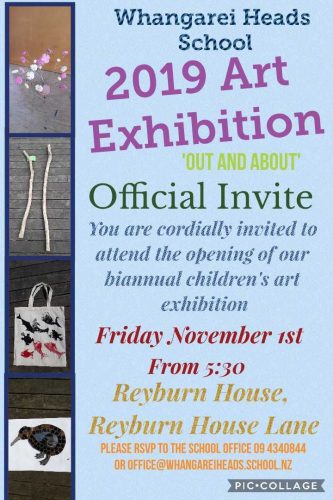 2022 Whangarei Heads School Art Exhibition Poster
School Production – children develop a class script, make props, put together costumes and deliver a number of shows to their parents and school community. With lighting, sound, singing, acting, dancing, technology, building; a show comes to life that is truly spectacular and owned by the students themselves.
Car Boot Sale:
An annual community event to help fundraise for extra books, resources, sports gear. A chance for students to and families to clear out those unwanted treasures and make a few dollars for themselves. Traditionally, children have made things and run their own stalls.
Christmas Tree Evening:
A special celebration held in the last week of the school year, a tradition where we say farewell to our Year 8's and recognise a raft of achievements from throughout the year. An evening held on our school field with a range of small acts; singing, speeches and laughter.