Assemblies
Assemblies are a great way to keep in touch with what is going on in the school and your child's classroom.
Sharing assembly is every Friday from 2:00 to 2:30 where classes and school groups take turns to share with the school. We also have class certificates and gold awards to present.
Values assembly is on Tuesday mornings from 9:10 to 9:40 where we participate in whole school, whanau and small group activities. Most of these assemblies revolve around the Zones of Regulation programme, our school values and vision. Parents are invited to both of these assemblies.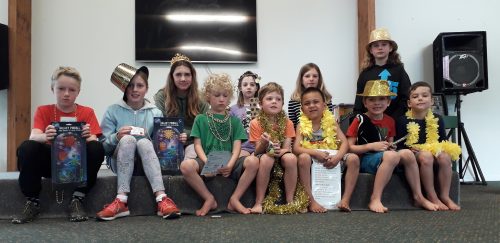 Lucky Gold Award winners
Attendance and Absences
All students are required to be at school whenever it is open for instruction. It is important that the school is informed, and reason given, if your child is not going to be present. Please ring the office and/or DOJO your teacher as early as possible. Parents will be contacted if there is an absence as we need to account for all children as a safety precaution. Children arriving after 9am should go to class via the office to be marked present.
Behaviour
At Whangarei Heads, we focus on Positive Behaviours, and as such have a number of systems to promote desired behaviours; including – house points, Dojo points, values tokens and gold awards. Staff have had Restorative Practice training, which has a strong foundation on relationship building and respect. In addition to this, the school is currently going through the Zones of Regulation programme where we look at feelings / emotions in ourselves and in others. In 2022 we are involved with the Pause, Breathe, Smile programme. We also operate a Peer Mediator programme and have Life Education sessions.
Bus
The school bus is free to children under 10 years of age and living more than 3.2km from school, and children over 10 years of age living more than 4.8km from school. The bus services Ocean Beach / Ody Road and McLeod Bay, over three separate runs. Non eligible children can sometimes use the bus casually. The bus pick up / drop off area is at the Big Rock. See the office for more information.
Communication
Teaching staff at Whangarei Heads like to keep in close contact with parents, and we see this as an integral part of the job in educating well rounded citizens. Keeping the triangle strong between child, parents and the school is important for this reason. The school has a number of modes for keeping in contact – weekly newsletters, Class Dojo and a school Facebook page, as well as assemblies.
It is important that you make contact with your child's teachers should you need to discuss any aspect of your child's education; be it academic, social, wellbeing. It is best to arrange a time to talk so that the teacher can put time aside to give you and the matters you are wanting to discuss the attention it needs. Just before schools starts, and just after it ends are often very busy and outside the classroom door may not be the best for such a catch up.
Emergencies
Throughout the year we have a number of fire, and other emergency, drills to ensure that children are safe and know what to do should an emergency and need for evacuation strike our school.
Enrolment
Environment
We want our children to be actively involved in the care and development of the natural environment. Students are encouraged to have input into the school environment in a variety of ways. An appreciation for, and connection with, is fostered in a number of ways; including access to Fern Valley during break time, hut making, tree climbing, tending to the vege garden, looking after the hens and collecting eggs, composting food scraps, monitoring pests, recycling terra waste. We currently have a Green-Gold Enviroschools status. Our student Enviro Group meet weekly to look at all things enviro.
Hats
School, wide brimmed hats, are a compulsory item during terms one and four. Children have the choice between navy blue and emerald green. Children not wearing their school hat must stay under the 'undercover' area or the library during break times, which fits in line with being sunsmart.
Health and Medication
New entrants are screened for Hearing and Vision testing during their first year of school. Year 7 students have MMR injections. View information about Y7&8 immunisations from the MoE. The Public Health Nurse works closely with staff should their be a concern for a student.
First aid incidents are handled by the teacher, duty teacher, or by office staff. Parents are contacted if the incident is major, such as any head injury, broken bone, etc.
Head lice can be an issue so please be vigilant. View information about head lice from the MoE.
Our school dental nurse is based in Onerahi.
Homework
Children across all levels of the school are encouraged to read daily to foster the enjoyment of books and reading in general, and to gain reading mileage, and spelling words from Y3 onwards are learnt.
There may be other homework based activities from time to time, like finishing off a project, researching, completing questionnaires or activities with family involvement. More directed homework may be given in Y7 and 8 to prepare these students for high school.
Hours
School commences at 9am and finishes at 3pm.
Interval is 10:40-11:20 and lunch is 12:50-1:30 (2 x 40 minute breaks).
The office is open from 8:30-3:30.
Items of Value
Students must not bring valuable toys or other items to school as we cannot ensure the safety of these. If a senior student needs to bring a cellphone to school, this needs to be handed into their classroom teacher before 9am and will be returned at 3pm. Some personal devices may be brought to school as part of the teaching and learning programme, but a contract will be signed in this instance.
Leadership
As part of growing well rounded citizens, children right throughout the school are given leadership opportunities; from taking out the compost and collecting the eggs, to being a peer mediator or whanau leader, lost property, lunch duty and PE monitors. See more on our Student Leadership page.
Learning Needs
Recognising that all children are individuals with different academic, social and emotional needs, we will work with you to develop a programme that meets your child's needs. We can call upon a range of expertise in different areas, as well as the quality in house staff. We can use the Resource Teacher for Learning and Behaviour (RTLB), teacher aides, reading recovery and so on.
Leaving School Grounds / Appointments
Children are not permitted to leave the school grounds during the school day unless there is prior consent from parents and teacher. If your child has an appointment, the school should be notified and signed out at the school office. This is an important aspect of keeping everyone safe and accounted for in case of an emergency.
Lost Property
For the school of our size, the amount of lost property collected each week is mind boggling. Most of this is unnamed and never returned to the owner. Please encourage your child to look after their clothes and please help us by clearly naming all items. Each term, any lost property not collected is taken to a charity shop in town. Lost property can be viewed on site at any time – so please check back regularly.
Newsletters
A comprehensive school newsletter is sent out every second Friday for families and school community members. The newsletter contains information, class events, student's work and celebration items and reminders. They are available in hard copy by request, and electronically via DOJO and on the school website.
Outdoor Education (EOTC)
View information by clicking here.
Parent Contributions
School donations (voluntary parent contributions) are kept to a minimum. These are $135 for one child and $240 for 2 or more children per year. Whilst these are not compulsory, they are vital in assisting us to provide valuable resources, experiences and support for students.
Parent Support Group (PSG / PTA)
This is a group of parents who organise social and fundraising events for the school, which help to provide those 'extras'. Some of the events include Funky Fishing, catering for community events, movie nights, discos, car boot sales, sausage sizzles, Friday lunches. Other parents help out with laundry, or gardening. You may have some time, or expertise to help out in some capacity?
Parking
Please park outside the school gates up at 'the big rock' when dropping off / picking up. Please keep clear of the bus zone immediately in front of the big rock. Please do not drive into the grounds or park within the yellow lines. We do not have room for more cars and want to keep children safe by limiting traffic movements.
Reporting
Meet the teacher / Goal setting sessions are held at the beginning of the year and three way conferences in the middle of the year.
A mid year report is written which gives an overview of your child's progress, areas of celebrations and goals to work towards.
At the end of the year, students will receive a more detailed written report including their achievement within the learning areas.
Road Safety (bikes)
Children year 5 and above may ride their bikes to school. Care must be taken along Whangarei Heads Road and Whangarei Heads School Road, and parental support and guidance should be given prior and during the establishment of any child learning to ride to school. Helmets must be worn and road rules abided by. Bikes can be stored behind Room 3. Parental permission must be received in writing and approved by the school. The ultimate responsibility lies with parents and caregivers.
Scooters, skateboards and skates may be ridden at school during break times when a helmet is worn.